If you are an outdoor travel enthusiast, or often want to go to remote areas, then the portable power station is one of the best investments to complete your journey. However, a portable power station doesn't come cheap.
Fortunately, BougeRV offers you 5 high-quality portable power stations with huge discounts this coming Black Friday. These power stations have a wide range of uses and can supply power to a variety of electrical equipment.
So, let's take a closer look at them and talk about handy shopping tips.
When shopping for an outdoor gadget that can generate electricity at any time and from any location, you should keep the following factors in mind:
1.Battery capacity
The battery is at the heart of the power supply system, and its capacity dictates how much power it can generate and how long it can run. Because the outdoor power source is usually installed in the trunk of a car, you won't have to worry about its capacity. If your budget allows it, you can go with a larger-capacity battery.
2. Equipment power
If you intend to power a large amount of electronic equipment, an outdoor power supply with a capacity of more than 500w is advised.
Let us do two quick analogies:
In general, a 500W outdoor power source can power a 500W rice cooker and an 800W hair dryer.
Outdoor power sources of more than 1000W can often power a 1000W electric kettle and induction stove.
3.The number and types of output ports
The following are examples of common interfaces on outdoor power sources:
AC: A 220V AC power supply that can be attached to plugs and supports most electronic equipment and household appliances.
DC: This is the most common input interface. However, some outside power supply DC ports are bidirectional.
USB: Supports charging of most mobile devices and certain USB ports on outdoor power supplies. It also offers fast charging.
Type-C: It supports mobile device charging.
Vehicle charging: Often used for vehicle charging port output.
1. 1100Wh Portable Power Station
If you want to save money on Black Friday this year and rake in the best deals, the 1100Wh Portable Power Station is a smart option. It is a modular system that charges the solar generator 1500 times with square aluminum shell lithium batteries. This innovation also doubles the service life of existing cylindrical batteries.
This power station has a large capacity of 1100Wh and a rated power of 1200W with a peak value of 2000W. This outperforms many comparable goods on the market. A single charge can power your home and important electronics for up to three days.
Furthermore, the 1100Wh Portable Power Station this Black Friday only costs $629.99. That's a whopping $270 discount from the original price of $899.99. Score!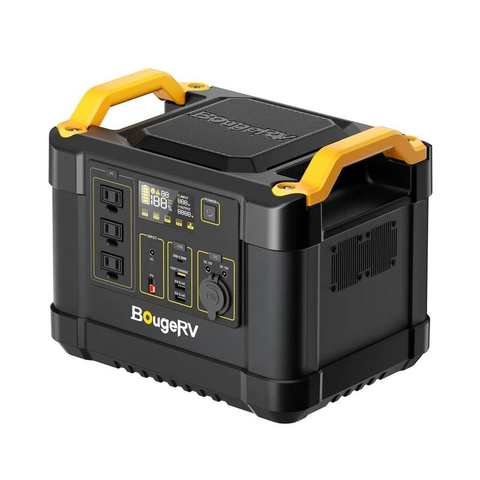 Why do you need it?
2 times longer service life
A unique digital screen display provides you with more convenient services.
The electrical noise is very small, and it can withstand the harsh external environment
Built-in MPPT technology enables efficient charging management
Ten multi-functional charging ports
2. 130W Portable Solar Kit
On Black Friday, the BougeRV team released a terrific value package you shouldn't miss. The package includes a 37QT double zone refrigerator, a 130W solar panel, and a 1100Wh portable power station. You can then get the three items in a bundle for only $1271.98, a significant discount from the regular price of $1589.97.
The 130W Portable Solar Kit can increase its power capacity to 1100Wh/50Ah by utilizing intelligent spare batteries. This kind of extra storage makes for a dependable power supply that can support your home's lights and appliances within hours of a power outage, providing you peace of mind and uninterrupted fun.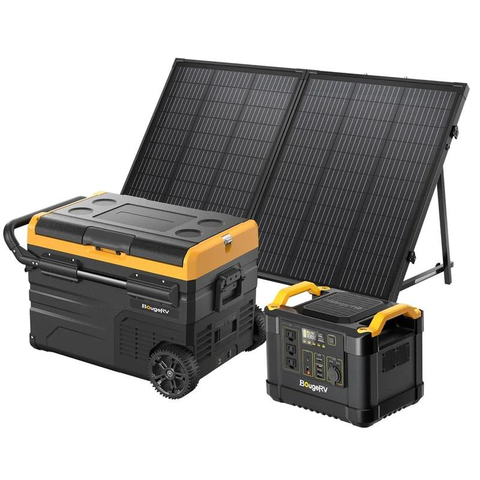 Why do you need it?
High-efficiency output electric energy, which can supply power to multiple demanding appliances
It is easy to use and can be remotely controlled by mobile devices
Rapid cooling technology with two cooling modes that can be switched at will
BougeRV's excellent after-sales customer service
3. 1100Wh Portable Backup Power Kit
Try the BougeRV team's leading 1100Wh Portable Backup Power Kit and expect premium quality.This kit includes a 1100Wh portable power station as well as two 130W folding solar panels.
It is perfect for use both at home and on the go. During your outdoor adventures with no access to electricity, the BougeRV 1100wh portable power station included in the kit will provide hours of power and dependable quality.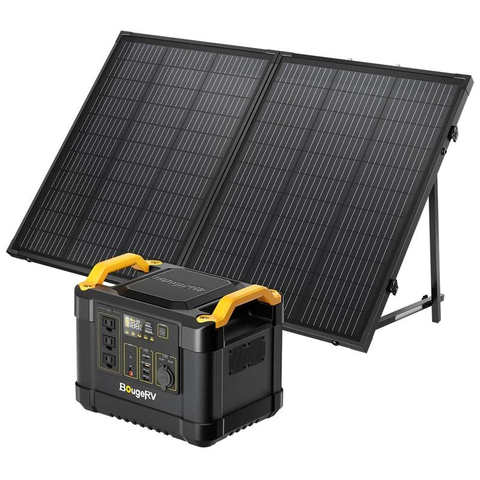 Why do you need it?
A charging socket to fit all of your requirements while offering consistent power output.
A dynamic LED panel displays energy consumption in real time.
Excellent water resistance and durability in a variety of weather conditions.
Solid after-sales customer support
4. Portable Air Conditioner and Power Station
Last but not the least, the sough-after Portable Air Conditioner and Power Station. It can provide you with the cooling you need while also reliably supplying you with electricity. Having said that, this is a must-have bundle for your summer vacation!
The original price was $2014.99. During the Black Friday weekend, you can have it at $1611.99, about $403 in savings. Supplies are limited, so grab yours while it lasts.

Why do you need it?
Quiet operation decreases noise by 52 dB
Straightforward running state or indicator means you can see how much power is left at a glance.
Amazing after-sales service
5、130W Starter Solar Kit For Outdoor Travel
Compared with the second package listed by us, if this package is used in your outdoor travel, its charging speed will be faster.
At the same time, the life of the solar cell in the kit has been extended by twice. This design can enable the solar generator to be recharged more than 1500 times.
In addition to the charging pool with a service life of twice, the power station also has a super capacity of 1100Wh. The output of this magnitude exceeds most similar products on the market. One charge can make your important equipment use for 2 to 3 days.

Why do you need it?
Large capacity battery and powerful power supply provide stable power supply for your equipment
Safe and easy to use, and the after-sale of bougeRV is guaranteed
The solar panel in the kit is waterproof and suitable for different weather conditions
Perfect after-sales system, committed to providing customers with the best service
BougeRV releases rare, awesome deals this Black Friday.
We are dedicated to developing and marketing a suite of truly high-quality, sustainable, and versatile outdoor products to enrich your outdoor adventures. We have gone the extra mile to create the best products that count, from efficient solar panels to portable outdoor appliances.
Check our website: https://www.bougerv.com/ for more information about BougerRV's Black Friday deals.