The Black Friday sale is fast approaching. To return users' support for BougeRV during Thanksgiving, the team has prepared exciting deals and surprises this coming Black Friday.
We're all about helping you enjoy the best outdoor experiences, and our products are here to make the best outdoor adventures happen for you.
Introducing our high-quality discounted solar panels from BougeRV. Before we get down to the list, let's talk about how to choose the best solar panel for your needs.
To purchase a solar panel suitable for you, consider the four factors below:
1. Size and power
The size of the solar panel and the watts it can produce should be your primary considerations. Solar panels, after all, are available in a range of sizes. The tiniest ones can be placed in windows, but they usually only provide enough power to run very small appliances. Yet, larger models can power an entire family or business.
2. Installation position
After determining the size and wattage of the solar panel, you must also decide where to place it. In general, solar energy is installed on roofs, walls, and columns that are fully exposed to the sun. The more sunlight it gets, the better.
3.Energy output
The next factor to consider is how much power you want the solar panel to generate per day or per hour. The energy output of solar panels will dictate your daily use experience.
In general, divide your daily electricity use (in watt-hours per day) by the solar capacity in your area. Increase this figure by 30 to 50% (to account for system inefficiency), and you will have the total wattage of the solar panels you require.
4.Cost savings and return on investment
Finally, you should consider the cost savings and return on investment. Compared with the general power grid, how much money can you save by using solar panels? How convenient will it be for you to use solar panels?
In general, with the advancement of technology and the  rising environmental awareness the popularity of solar energy is expected to grow. Accordingly, BougeRV will continue to work hard in the solar panel sector to offer outdoor products with improved efficiency and performance.
1. 200W 12V 9BB Mono Solar Panel
This 200W solar charging panel is available for $195.99(the original price is $279.99).  Hurry and grab this deal while it lasts.
The BougeRV 200W solar panel is ideal for outdoor use, especially for RV/Van/Truck/Trailer owners. Its monocrystalline silicon panel allows for the most efficient use of space and the best user experience.
A 9BB battery combined with a 200W solar panel can produce around 410kWh of electricity each year. With this solar charging panel, you no longer have to be concerned about power outage or absence, including alongside a picturesque lake.
Why do you need it?
Equipped with an advanced 9BB battery, with the highest conversion rate of 22.8%.
The receiving surface of the battery is expanded, and the thinner carbon tape reduces the coverage area by up to 22%.
Equipped with compact design and higher power.
It can withstand strong wind (2400 Pa) and snow load (5400 Pa), and is suitable for cold and complex outdoor environments.
Minimize your energy costs.
2. 200W CIGS Thin-Film Solar Panel
Consider the 200W CIGS Thin Film Solar Panel by BougeRV if you want a solar charging panel with high versatility at great discounts.
This 200w powerful solar charging panel is convenient to use and easy to carry. It weighs only 6.68 pounds and is 25.4 x 78.7 x 0.06 inches, making it ideal for travel.
Furthermore, the 200W Thin Film Solar Panel is intended to transform the field of solar charging panels. Its CIGS technology allows for a highly flexible 360° installation. The panel is portable and long-lasting to withstand any flat or uneven surface.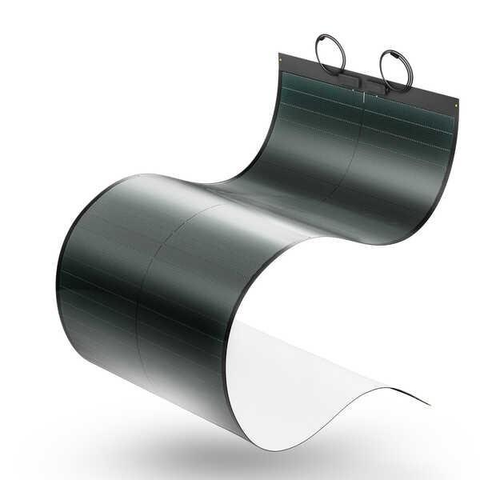 Why do you need it?
Conform to vehicle aesthetics, suitable for various types of surfaces
Stable power supply in overcast weather
No time-consuming technical installation and no additional installation tools are required
Special price offering during Black Friday
Provide a complete solar power supply system
3. 100W CIGS Flexible Solar Panel
The CIGS thin film solar cell technology can significantly increase the durability, photosensitivity, and service life of solar panels.
The 100W thin film solar panel has a higher light energy absorption coefficient, and because the CICS material is so thin, it is extremely flexible when used.
You can use it not just on smooth ground but also on uneven surface. It works on a variety of surfaces, including the roofs of recreational vehicles, boats, and campgroun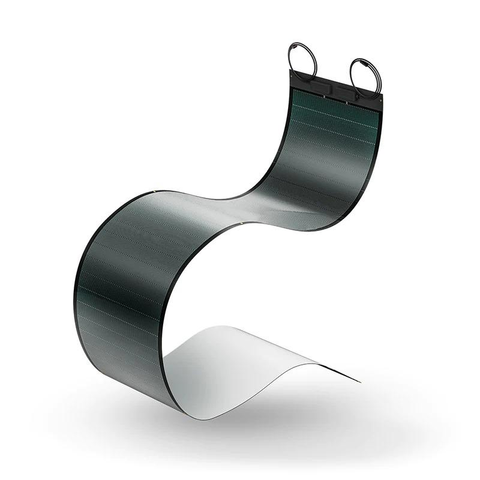 Why do you need it?
It is very flexible and can be rolled up and conveniently stored
It works with various surfaces, environmental conditions, and vehicle aesthetics
It can still meet the basic power demand on cloudy days
Easy to install without additional installation tools
Solid durability
4. 180W 12V 9BB Mono Solar Panel
BougeRV also offers a long-lasting 180W solar charging panel, which enhances the user experience significantly. The highest conversion rate of the 9BB battery design is 20.50%. It outperforms the previous 5BB in terms of conversion efficiency.
This device can endure severe winds of up to 2400 Pa as well as snow loads of up to 5400 Pa. This allows you to have enough power even in poor weather. Furthermore, it still works well in low-light conditions.
The IP65 waterproof junction box is capable of isolating environmental particles as well as low-pressure water jets. The diode is pre-installed in the junction box, along with a pair of pre-connected 3-foot cables.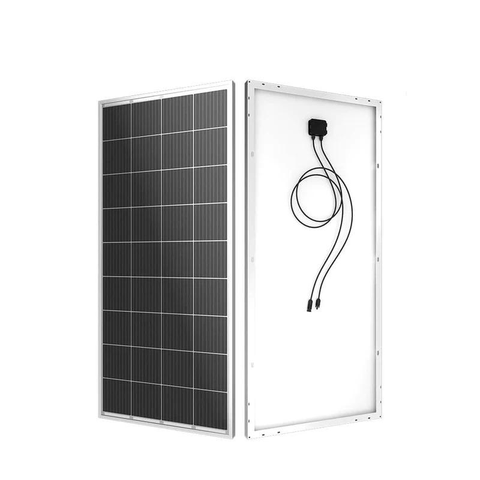 Why do you need it?
Powerful 180-watt solar charger.
Made of highly efficient single-crystal solar panels.
Multiple variants are available in different power options.  
Suitable for cold and harsh outdoor environments.
95% light transmittance rate lets more sunlight enter and reduces consumption.
5. 130W Mono Portable Solar Panel
 Complete your fun-filled outdoor adventures with this BougeRV 130W portable solar panel! It's a perfect addition to your camping starter kit.
The 23.5% high power conversion and adjustable bracket will allow you to conveniently and efficiently use electricity for your adventure.
Aside from being incredibly portable, the waterproof design of the 130w portable solar panel conforms with IP67 criteria and is ideal for various weather conditions, including rain and storm. At the same time, it is ideal for outdoor activities such as camping and trekking.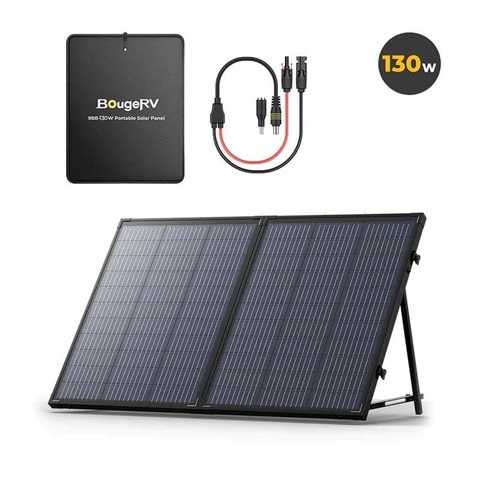 Why do you need it?
Weighing only 10.36 pounds and made of ultra-light PET material.
Easy to adjust and put on uneven ground.
It has increased cell surface area to improve the charging efficiency significantly.
The 18-volt solar panel can also function as a rechargeable battery pack.
6. 120W 12V Mono Solar Panel
This is a super easy-to-use 120W powerful solar panel from BougeRV, a major supplier of renewable energy products for recreational vehicles. This model is made of highly efficient single-crystal solar cells, providing a very reliable means to power your RV continuously.
Furthermore, an IP65 waterproof junction box is included, and the solar panel is pre-installed with diodes to prevent current from leaking back from the battery. A 3-foot solar wire is linked to the junction box, which users may use right away after packaging.
At the same time, the predrilled hole on the back of the solar panel allows you to quickly fix it anywhere. BougeRV also provides one-to-one solar solutions and promises to provide a 25-year power output warranty to keep you powered and ready during your outdoor travel!
Why do you need it?
With pre-drilled holes in the plate, it is easy to install and suitable for irregular surfaces.
More solar charging panels can be connected in parallel to generate more electricity.
The waterproof ring is tightly sealed to keep water out of the connector.
Single crystal solar cells can obtain up to 22% conversion rates.
BougeRV provides a one-to-one solar energy solution for ease of use.
Enjoy the most awesome deals BougeRV generously offers on Black Friday.
We are dedicated to developing and presenting a suite of truly high-quality, sustainable, and customizable outdoor products to help outdoor lovers explore and make the most of their adventures. From portable solar panels to outdoor appliances, we've got you covered.
For more information about BougeRV's product promotions on Black Friday, you can follow our website: https://www.bougerv.com/.